The Filmingo International Short Film Festival is delighted to announce the list of Short Films that have been Official Selected for screening at Filmingo 2019. Over the last couple of weeks, our team has been perusing through all the entries that we have received this year, and narrowing the list down to these films wasn't an easy job. Through careful deliberations, we have shortlisted the following Short Films for Filmingo 2019.
Filmingo 2019 Official Selection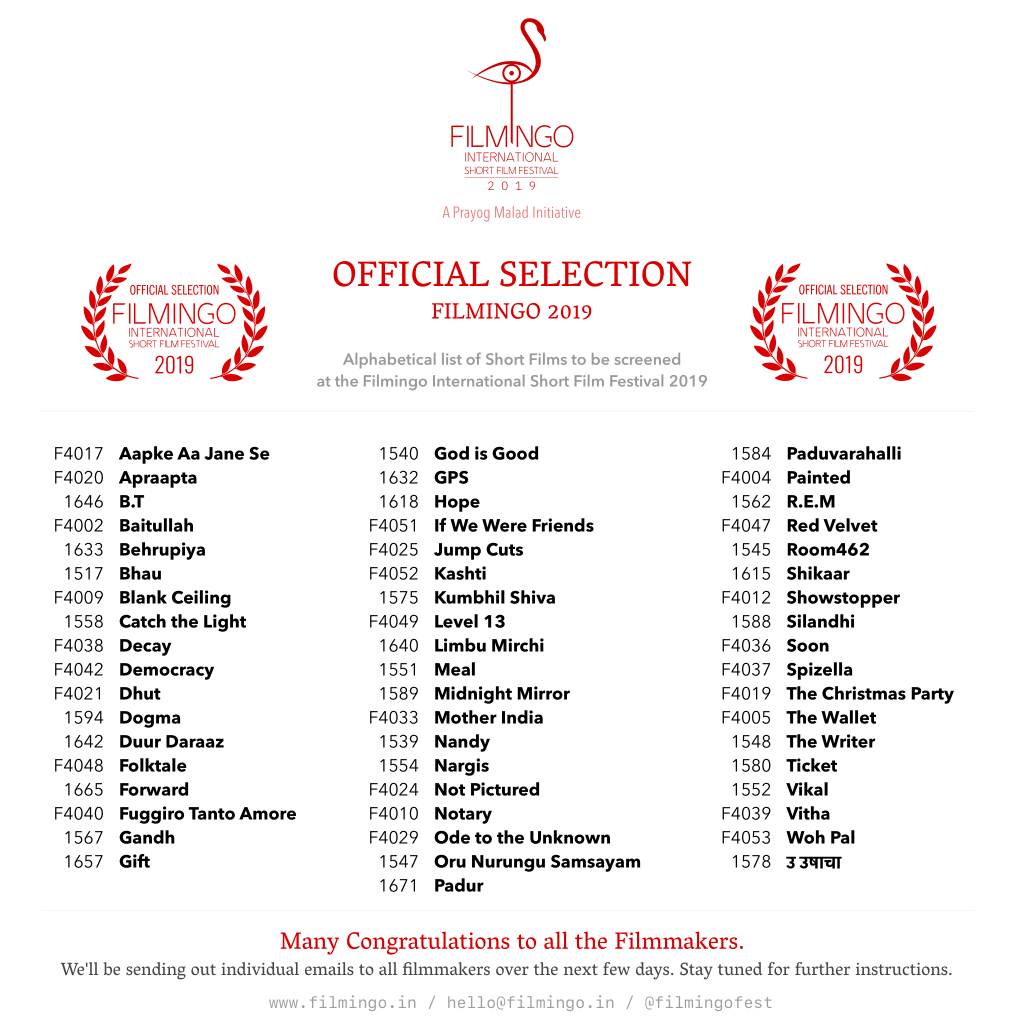 Filmingo 2019 will be the fourth edition of this initiative by Prayog Malad and will take place on the 10th, 11th, and 12th of January, 2020 at the Vidyalankar Institute of Technology, Wadala, Mumbai. Please find complete details of the venue for Filmingo 2019 right here.
Filmingo Selection List
If your short film didn't make the cut this year, don't fret. We received an overwhelming number of entries and it was quite an experience to go through all the entries and see the variety of short films on display. Unfortunately, we are not able to include every short film in our program. Please know that your project was carefully considered by our programming team, and the decision was incredibly difficult, to say the least. Unfortunately, not all of the wonderful projects we consider can be included, and we are forced to make many difficult decisions each year. Thank you again for sharing your project with us. We wish you the best of luck, and we hope to have the opportunity to view your work in the future.
For any queries or concerns, please don't hesitate to get in touch with us at hello /at filmingo /dot in.
Aapke Aa Jane Se (Daddy's Got Moves)
Apraapta
B.T
Baitullah
Behrupiya
Bhau
Blank Ceiling
Catch the Light
Decay
Democracy
Dhut
Dogma
Duur Daraaz
Folktale
Forward
Fuggiro Tanto Amore
Gandh
Gift
God is Good
GPS
Hope
If We Were Friends
Jump Cuts
Kashti
Kumbhil Shiva
Level 13
Limbu Mirchi
Meal
Midnight Mirror
Mother India
Nandy
Nargis
Not Pictured
Notary
Ode to the Unknown
Oru Nurungu Samsayam
Padur
Paduvarahalli
Painted
R. E. M
Red Velvet
Room462
Shikaar
Showstopper
Silandhi
Soon
Spizella
The Christmas Party
The Wallet
The Writer
Ticket
U Ushacha
Vikal
Vitha
Woh Pal ( Those Lovely Moments…)